GOTT NYTT ÅR, och en liten årsresume 2020!
Gott nytt år på er! Året är slut, och många trevliga fiskedagar har det blivit! Likaså många stora fina fiskar under året!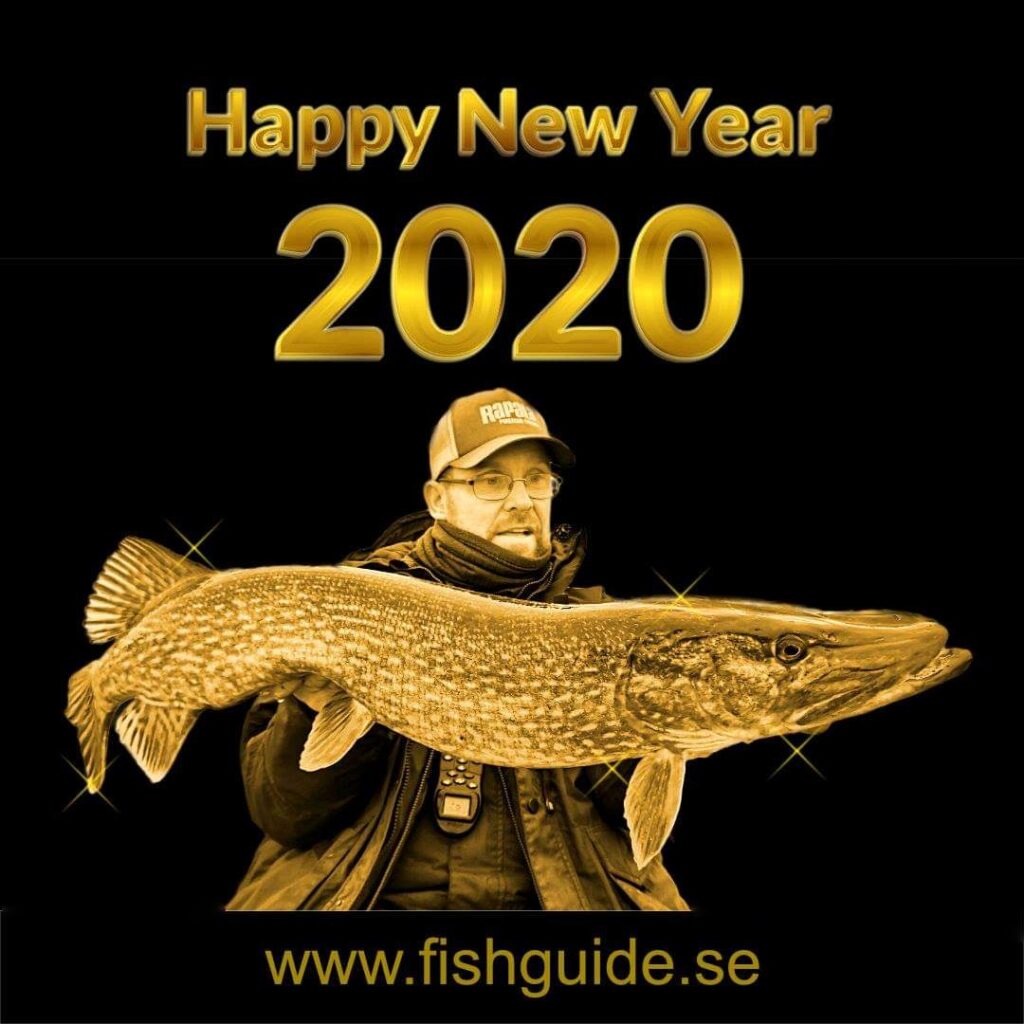 GOTT NYTT ÅR! Då närmar sig ett nytt fiskeår återigen, och det blev en hel del gädda landat under året både privat och på guidningarna (många gäddor över metern, speciellt på slutet nu i höst)! Även en massa abborre upp till 1730 gr, en stor brax etc! Stora gäddor upp till 115 cm, gös, havsöring, aspar fina östersjölaxar (bästa guidningen landa vi 5 laxar på Ålands hav). Dessutom körde jag ett solo "wild & crazy" kajakfiske (laxtrolling från kajak) på Ålands hav, men bomma då! Det blev även en grym resa till Söröya med Normark då vi drog mängder med torsk, hälleflundra etc! Jag hade även turen att vinna en "Rapala-mediatävling" där, trots tufft motstånd av proffs på sociala medier! Gösen fiskade vi ovanligt lite av, men det blev många landade ändå via bl.a vertikalt jiggfiske etc. Rugen i Tyskland var ovanligt seg, men en okej gädda på 109 cm blev det där för undertecknad. Förutom mina båtguidningar så körde jag även några kajakfiskeguidningar, med bl.a en större gädda för kunden (8,7 kg)! Nästa år hoppas jag på mer kajakfiske med kunderna och privat! Riktigt kul är det, och rekommenderas varmt! Ismetet förra vintern gav en hel del gäddor & gösar (några bättre), men även fina abborrar! Tonfiskprojekt på Skagerak var blåsigt men kul, då vi hade flera giganter (Blåfenade tonfiskar) hoppande nära runt båten (Team Dagmar)! Detta var en kort sammanfattning, men snart är det dags för mer ismete efter gädda & gös igen! Den nya motorisborren Strikemaster 40v är grym, och mörtsumpen dessutom full – så välkomna ut på isen (ev/troligen blir det dock lite båtfiske först)! Känn er förövrigt varmt välkomna på ett kul, lärorikt och ett spännande sportfiske framöver i båda guidebåtarna – boka det sista lilla av denna "höstens", vinterns och vårens fisketurer här redan nu! Kom som ni är, allt ingår som vanligt – välkomna ombord!!
Jag vill även passa på att TACKA ALLA KUNDER man haft att göra med under året/åren, alla co-guiderna/kollegorna (alla uppdragen såklart) fiskepolare etc – och givetvis sponsorerna & samarbetspartnerna (i första hand Jan Comstedt AB, Normark Scandinavia AB/Rapala, Suzuki Marin/KGK-Motor, och Sundbybergs Sportfiske AB)! Ett stort tack till er alla! Önskar er alla samtidigt ett RIKTIGT GOTT NYTT ÅR 2020! 😃
HAPPY NEW YEAR 2020 all my friends out there, and tight lines to you all – welcome on board! 😃
Ps. För er som följer Instagram så har jag även en kul sida där med en massa bilder (ofta stora fiskar och annat kul)! Länk: www.instagram.com/fishguide.se/. Sidan heter "Fishguide.se" för er som vill följa mig där!
Fiskehälsningar, Mikael "Mike Pike" Puhakka 0708-722 733 Hemsida/Bokning: www.fishguide.se